Mr Reg Gater works at one of Cambridge's many high-tech companies. He doesn't love his job, but he puts up with it because… well, it could be worse. Every day he drives to work around the Red Gate roundabout, wondering what his boss is going to blame him for today, and wondering if there could be a better job out there for him.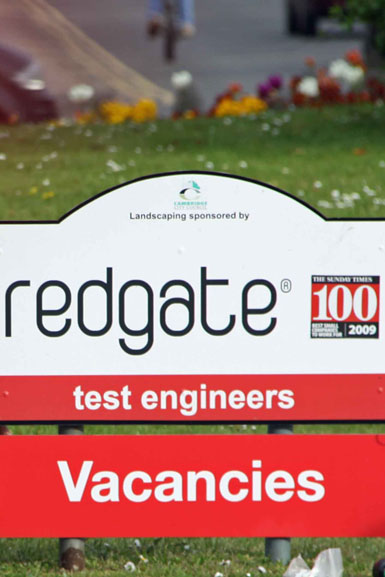 By late morning he already feels like handing his notice in. He got the hacky look from his boss for being 5 minutes late, and then they ran out of tea. Again. He goes to the local sandwich shop for lunch, and picks up a Red Gate job menu and a Book of Red Gate while he's waiting for his order. That night, he goes along to Cambridge Geek Nights and sees some very enthusiastic Red Gaters talking about the work they do; it sounds interesting and, of all things, fun. He takes a quick look at the job vacancies on the Red Gate website, and an hour later realises he's still there – looking at videos, photos and people profiles. He especially likes the Red Gate's Got Talent page, and is very impressed with Simon Johnson's marathon time. He thinks that he'd quite like to work with such awesome people.
It just so happens that Red Gate recently decided that they wanted to hire another hot shot team member. Behind the scenes, the wheels were set in motion: the recruitment team met with the hiring manager to understand exactly what they're looking for, and to decide what interview tests to do, who will do the interviews, and to kick-start any interview training those people might need. Next up, a job description and job advert were written, and the job was put on the market.
Reg applies, and his CV lands in the Recruitment team's inbox and they open it up with eager anticipation that Reg could be the next awesome new starter. He looks good, and in a jiffy they've arranged an interview. Reg arrives for his interview, and is greeted by a smiley receptionist. She offers him a selection of drinks and he feels instantly relaxed. A couple of interviews and an assessment later, he gets a job offer. We make his day and he makes ours by accepting, and becoming one of the 60 new starters so far this year.
Behind the scenes, things start moving all over again. The HR team arranges for a "Welcome" goodie box to be whisked out to him, prepares his contract, sends an email to Information Services (Or IS for short – we'll come back to them), keeps in touch with Reg to make sure he knows what to expect on his first day, and of course asks him to fill in the all-important wiki questionnaire so his new colleagues can start to get to know him before he even joins.
Meanwhile, the IS team see an email in SupportWorks from HR. They see that Reg will be starting in the sales team in a few days' time, and they know exactly what to do. They pull out a new machine, and within minutes have used their automated deployment software to install every piece of software that a new recruit could ever need. They also check with Reg's new manager to see if he has any special requirements that they could help with.
Reg starts and is amazed to find a fully configured machine sitting on his desk, complete with stationery and all the other tools he'll need to do his job. He feels even more cared for after he gets a workstation assessment, and realises he'd be comfier with an ergonomic keyboard and a footstool. They arrive minutes later, just like that. His manager starts him off on his induction and sales training. Along with job-specific training, he'll also have a buddy to help him find his feet, and loads of pre-arranged demos and introductions.
Reg settles in nicely, and is great at his job. He enjoys the canteen, and regularly eats one of the 40,000 meals provided each year. He gets used to the selection of teas that are available, develops a taste for champagne launch parties, and has his fair share of the 25,000 cups of coffee downed at Red Gate towers each year.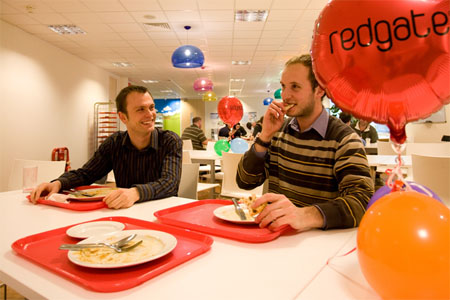 He goes along to some Feel Good Fund events, and donates a little something to charity in exchange for a turn on the chocolate fountain. He's looking a little scruffy, so he decides to get his hair cut in between meetings, just in time for the Red Gate birthday company photo.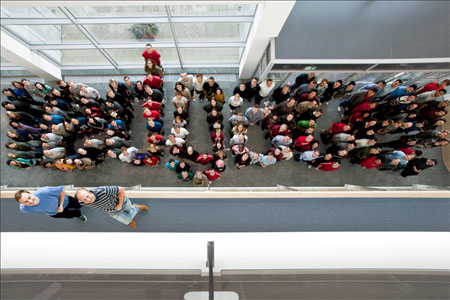 Reg starts a new project: identifying existing customers to up-sell to new bundles. He talks with the web team to generate lists of qualifying customers who haven't recently been sent marketing emails, and sends emails out, using a new in-house developed tool to schedule follow-up calls in CRM for the same group. The customer responds, saying they'd like to upgrade but are having a licensing problem – Reg sends the issue to Support, and it gets routed to the web team. The team identifies a workaround, and the bug gets scheduled into the next maintenance release in a fortnight's time (hey; they got lucky).
With all the new stuff Reg is working on, he realises that he'd be way more efficient if he had a third monitor. He speaks to IS and they get him one – no argument. He also needs a test machine and then some extra memory. Done. He then thinks he needs an iPad, and goes to ask for one. He gets told to stop pushing his luck.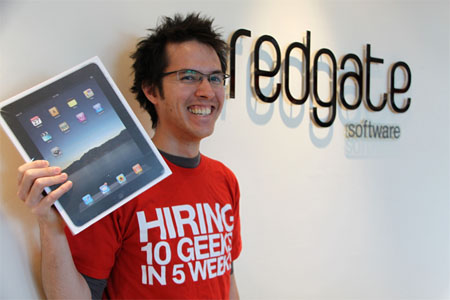 Some time later, Reg's wife has a baby, so Reg gets 2 weeks of paid paternity leave and a bunch of flowers sent to his house. He signs up to the childcare scheme so that he doesn't have to pay National Insurance on the first £243 of his childcare. The accounts team makes it all happen seamlessly, as they did with his Give As You Earn payments, which come out of his wages and go straight to his favorite charity.
Reg's sales career is going well. He's grateful for the help that he gets from the product support team. How do they answer all those 900-ish support calls so effortlessly each month? He's impressed with the patches that are sent out to customers who find "interesting behavior" in their tools, and to the customers who just must have that new feature.
A little later in his career at Red Gate, Reg decides that he'd like to learn about management. He goes on some management training specially customised for Red Gate, joins the Management Book Club, and gets together with other new managers to brainstorm how to get the most out of one to one meetings with his team.
Reg decides to go for a game of Foosball to celebrate his good fortune with his team, and has to wait for Finance to finish. While he's waiting, he reflects on the wonderful time he's had at Red Gate. He can't put his finger on what it is exactly, but he knows he's on to a good thing.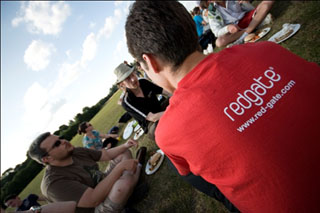 All of the stuff that happened to Reg didn't just happen magically. We've got teams of people working relentlessly behind the scenes to make sure that everyone here is comfortable, safe, well fed and caffeinated to the max.