Keynote address, Bob Muglia, Tech Ed 2007, Orlando
Greetings from Tech Ed Orlando. What do Orlando and Microsoft keynotes have in common? Lots of hot air. Boom Boom! I'm sure I'm not the first or last to crack that lame gag.
The Orange County Convention centre is huge. I mean massive. I've been here at least twice before but I always seem to forget how big it is, and the misery of discovering that your next session is in a different "wing".
This morning the taxi dropped us off in South wing and it was a full 20 minute slog over to the West wing keynote hall. And it is hot here, with humidity levels to warp the mind.
So was it worth the long and sweaty trek? Well, yes and no. After the two and half hours of Sunday night drudgery at Tech Ed 06 in Boston, my expectations weren't high, but things kicked off in a lively enough fashion with a 'Back to the Future' skit featuring Christopher Lloyd. Chris and Bob M travelled back in time to revisit some previous Microsoft "visions" that failed to get off the ground or were just plain irritating.
Chris exhorted Bob to stick to the "real world" and things everybody could do right now. He departed with a threat to be back on stage to interrupt any "Vision-Speak", or as he quite amusingly termed it, "MSVSBS".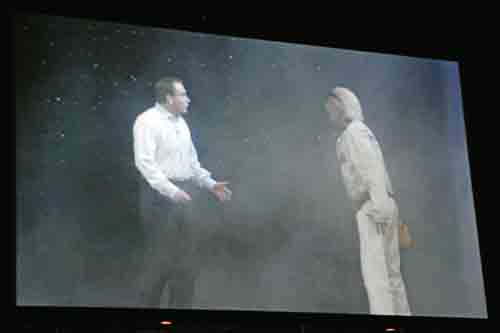 However, as the seemingly inevitable "People-ready" slide popped up, I was suddenly transported back in time myself, to the horror of the Boston keynote, but to be fair things never got quite that bad this time.
There was talk of providing "optimization models" to MS developers so they could discover opportunities for improving infrastructure, business productivity and application platform. Tom Bittman, VP of Gartner, emphasised the importance of agility as a key business differentiator in times of increasing, but increasingly short-lived, online business relationships.
The audience were perturbed. Who on earth could step in and make us all more agile before it was too late? By lucky hap, Microsoft was ready to step into the fray. Over the next hour or so, a variety of MS bods came on stage to explain what was coming in terms of:
Virtualization – a brief preview of Server Core, which allows a minimal installation with only the necessary roles installed, and the new Virtual Machine Manager. IIS is added as a role. This new VM technology will ship sometime after Windows Server 2008 is released.
Model-driven management tools – including policies in SQL Server 2008 that describe how databases should be configured.
SOA – Building streamlined service-enabled business applications with BizTalk 2006 and Axapta. I may have missed a few buzzwords. Mass exodus ahoy! Poor old BizTalk.
Customizing Outlook with VS 2008 – this looked pretty impressive. Brian Goldfarb gave a brief demo of customizing Outlook with business data pulled from SQL Server. E.g. an email from a particular sales person could be customized upon receipt to include relevant sales data.
Silverlight – building lightweight but rich browser-based applications
I rather expected Christopher Lloyd to reappear one more time for a grand send off. It didn't happen. Bob thanked us all for being here and we all headed out on a rather muted note.
Cheers,
Tony.