Red Gate recently attended the Microsoft Professional Developers Conference in Los Angeles, CA, and when we weren't consuming copious numbers of oysters and steaks, we found a lot of time to chat to attendees. I always seem to find myself having similar conversations with people during the course of a week. No bad thing of course, but it definitely means that the more interesting conversations always stand out.
The one that most definitely stood out for all of us was Joey deVilla. A Developer Evangelist for Microsoft Canada, Joey regaled us with some sweet, sweet music on his… accordion. To be precise, Joey serenaded a rather dazed and confused crowd around the Red Gate booth with a particularly unique version of Britney Spears debut single '… Baby One More Time'.
Alice could hardly contain herself, so we had to get a picture to remind ourselves of the musical masterpiece. As the saying goes, it definitely takes one to know one, and in this case it just had to be our very own Red Gate crazy that picked out another crazy from a crowd of thousands!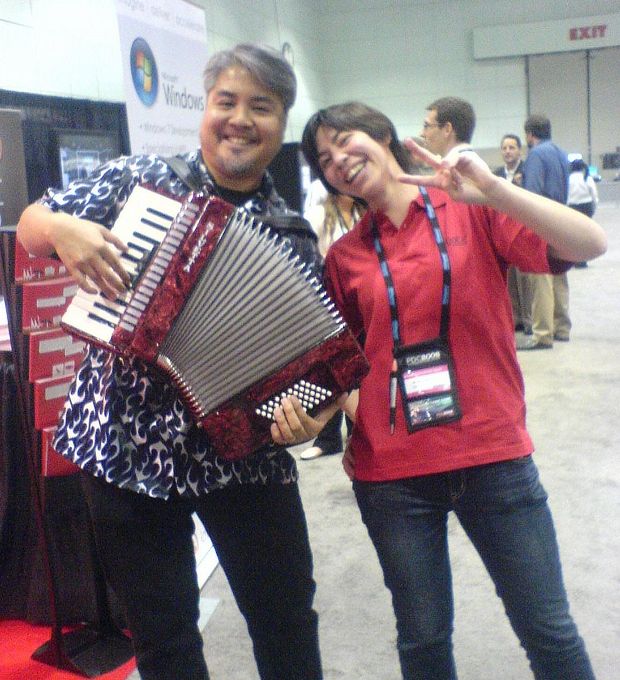 Joey deVilla, his accordion and Alice Easey at the Microsoft PDC
It's worth noting that according to Joey's business cards he will 'play for beer'. I hope Alice kept his card. I think I might find out if he's free for my birthday next year during Microsoft TechEd Developers …
Post by Rachel.