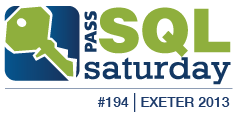 As I write this it is lunch time on Friday 22nd February. In two weeks time it will be Friday 8th of March and we will be half way through running the pre-con training day at SQL Saturday Exeter. Everyone there will be having lunch and talking SQL with some of the finest SQL Server professionals around.
You could talk about your High Availability solution with Christian Bolton and Gavin Payne or maybe PowerShell with André Kamaan. Perhaps you will be discussing SQL Profiler and Extended Events with Mladen PrajdiÄ or SQL Server Security with Denny Cherry or failing that you could be talking about TSQL Internal with Dave Ballantyne and Dave Morrison.
Alternatively you may be talking about football or stamp collecting or skiing or beer or anything you like.
The big thing is you can take the opportunity to spend time with them and learn from their experience and expertise in all aspects of SQL Server.
We'd love you to stay on for the SQL Saturday too where there will be almost 30 sessions from these and more SQL Server professionals.
Doesn't this sound better than eating your sandwiches at your desk? again.
All the information you need is here: http://sqlsouthwest.co.uk/sqlsaturday_precon.htm.