Reporting is something we've wanted to improve in SQL Monitor for a long time, and with the launch of v7 we've now achieved it. Almost since its inception, users have asked for reporting but it turns out that a 'report' is a lot like a 'dashboard' – many people say they want one, but they all want different things!
We previously provided a limited number of SSRS reports, but we knew something more customizable was needed. So a few months ago we started work on providing a reporting functionality in SQL Monitor, and this is a brief account of how we turned feature requests and user feedback into something that we think fits the bill for everyone.
First, those feature requests. We're lucky that we have a lot of people willing to engage with us to help us make the tool better for them. We had detailed requests going back a long time, so we began with a pretty good idea of the kind of things people wanted to report on.
These included the performance counters already available in SQL Monitor that can help give a picture of how busy individual machines, instances or individual servers are – CPU, user connections, batch requests, etc.
But what wasn't available were estate-wide metrics that might help show where the weak spots were across an environment – which disks are filling up fastest, for example, and which instances have the lowest uptime.
So we created a couple of these kind of metrics, added them to a canned report and put it out as a beta feature, as shown in this screenshot: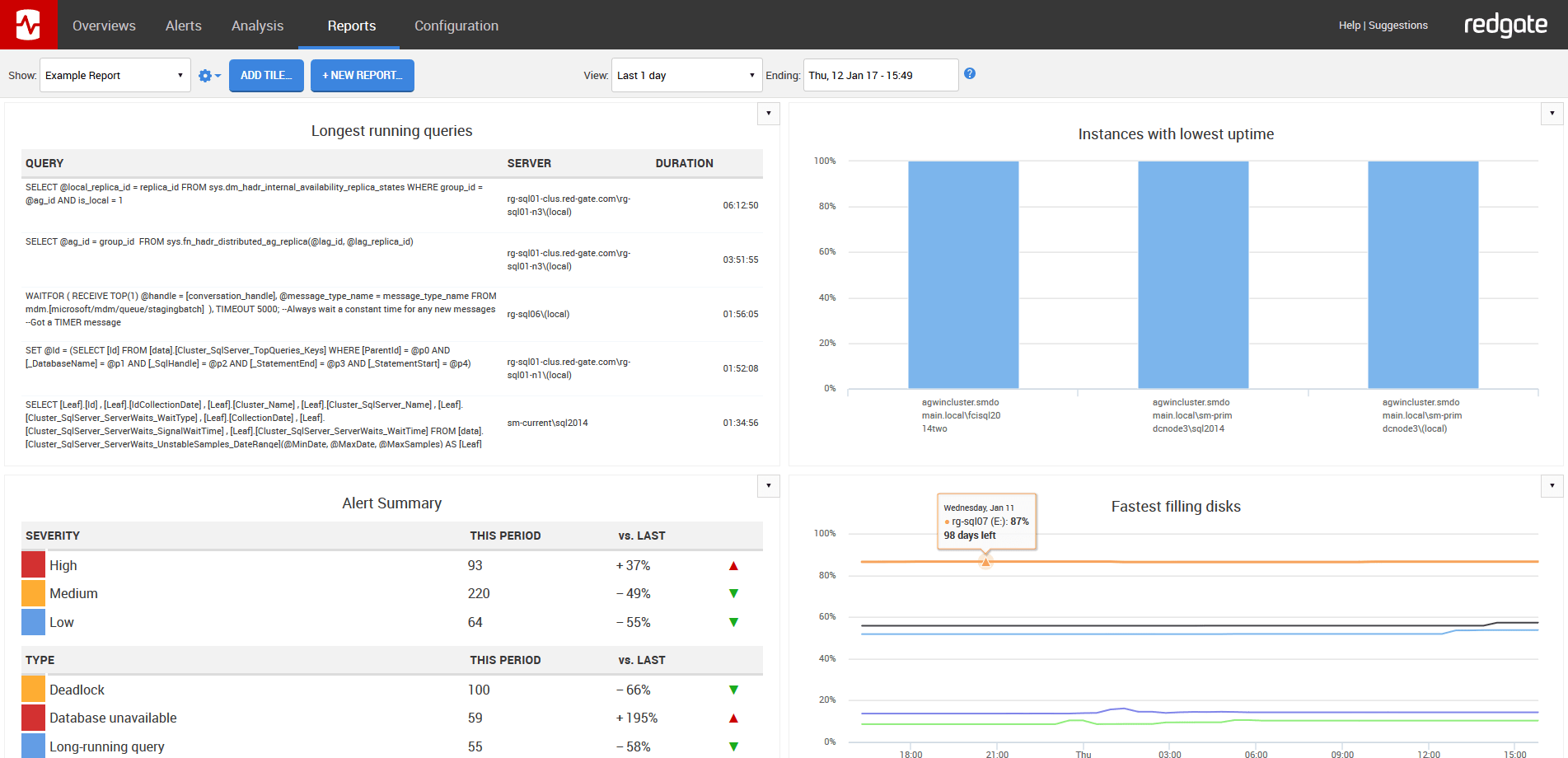 We also used Intercom's Messenger to allow people to share their thoughts on what we were developing, to let us know what metrics they wanted to see, and where they felt the feature could be improved: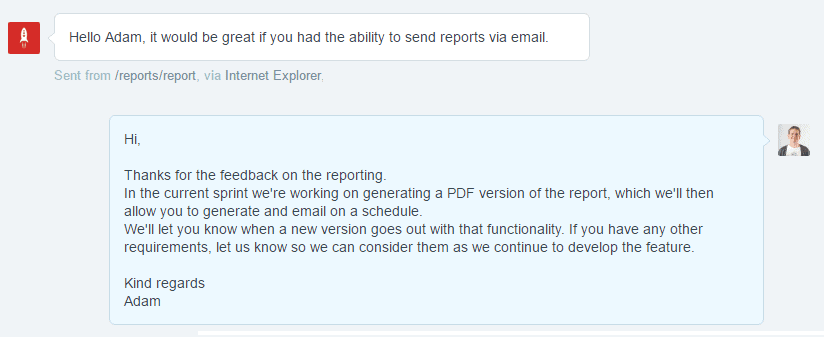 We got some really helpful feedback on what other estate-wide metrics would be most useful (a summary of alerts and how this week compared to last week, for example), and we set about adding the configurability to allow any metric currently available in SQL Monitor to be added to reports.
We already knew that some users were cutting and pasting charts from the Analysis page into their own reports, and we wanted to make it a lot easier. So now any graph that you can generate in the Analysis Page can be incorporated into your report.
What's particularly useful here is that you can create your own custom metrics and these too will then be available to add to a report. A good example of this is SQL Server Central. One of their key business metrics is forum posts per hour, so they created a custom metric to include it in their weekly report:

We also knew that key to the usefulness of the reporting feature would be the ability to send the reports via email – and schedule them too. We didn't want to force people to log into SQL Monitor to generate a report, so we built the scheduler into the report setup so that you can choose the time and day the report is sent as well as the recipients.
In this way, reports can appear in the inboxes of clients and colleagues at the desired frequency. We also added the ability to generate a PDF so ad-hoc reports can be saved and sent: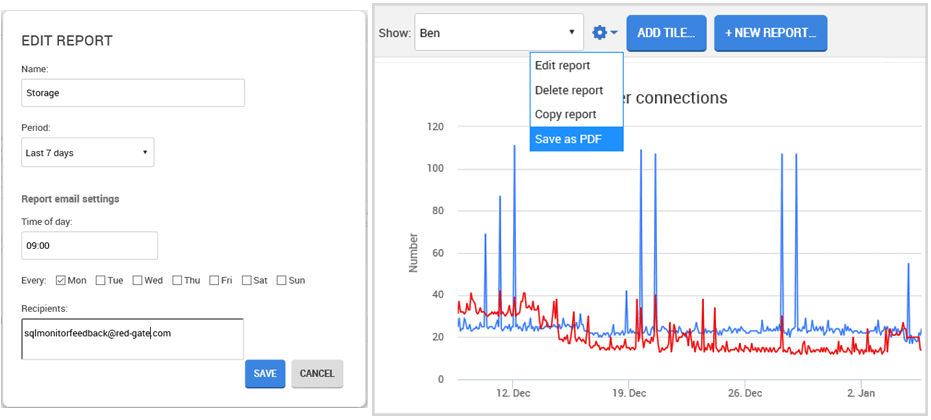 We continue to get feedback on where we can tweak the new feature (adding the ability to copy reports proved to be a real time-saver), and we'll keep a close eye on feedback now it's coming out of beta.
We'll probably use a similar process to get feedback on future developments – we know not everyone wants to chat so we've provided a way to turn it off in the config file, but in any case, we'll use it sparingly and only target feedback for new features.
Please continue to email your comments and submit suggestions via UserVoice – we do consider every bit of feedback, and although it's tough having to prioritize one improvement over another, we hope we've delivered a reporting feature that's simple, useful and tailored to the needs of SQL Monitor users.
If you're already a licensed customer of SQL Monitor, you can download v7.0 for free. If you aren't a SQL Monitor customer, visit the SQL Monitor page where you can download a free 14-day trial, or contact a member of the SQL Monitor team who will be able to guide you through the process.
Was this article helpful?