In Reflector 8.2, we introduced support for Visual Studio 2013, .NET 4.5.1, and some new code exploration features in the desktop tool. For version 8.3, we decided to address a long-standing feature request: putting the Analyzer into the Visual Studio add-in:

In desktop version of Reflector, the Analyzer is a useful way of understanding how decompiled code fits together. You can browse through dependencies, seeing what's referencing what and where things are used.
It didn't make the cut for the early versions of the Visual Studio add-in, and a lot of people have asked for it, so it seemed like time it was included. Hopefully, having an analysis view in the IDE will reduce the need to switch contexts and drop back to the desktop tool when you're trying to understand 3rd party code.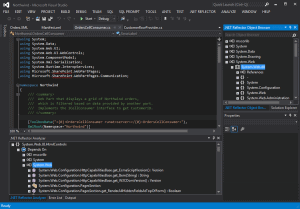 We've also included a fix to an annoying little bug where you could sometimes see decompilation to the wrong bitness, an issue with P/Invoked dlls incorrectly showing Go To Member, and some general hygiene and maintenance.
You can get the latest version through Check for Updates (on the Help menu), here on the website, or through the Visual Studio Gallery.
It's a minor version release, so as usual it's a free upgrade if you've got a v7 or v8 license.
Issues with 8.3
We encountered some issues with the original 8.3 release. These have since been addressed in the 8.3.3 update.