Major product releases are like buses, you wait for one to arrive and then two come at once. Only last month I was writing about why SQL Monitor v5.1 was a big deal, and now I'm writing about how SQL Monitor v5.2 is going to change the way you look at your SQL Servers, forever!
How are we going to do this? Simple: we've created a new interactive dashboard that fully replaces the old Overview tab, so you can now see instantly what's happening with each server and what (if anything) needs fixing. Each server instance has its own card that displays the current status and key metrics: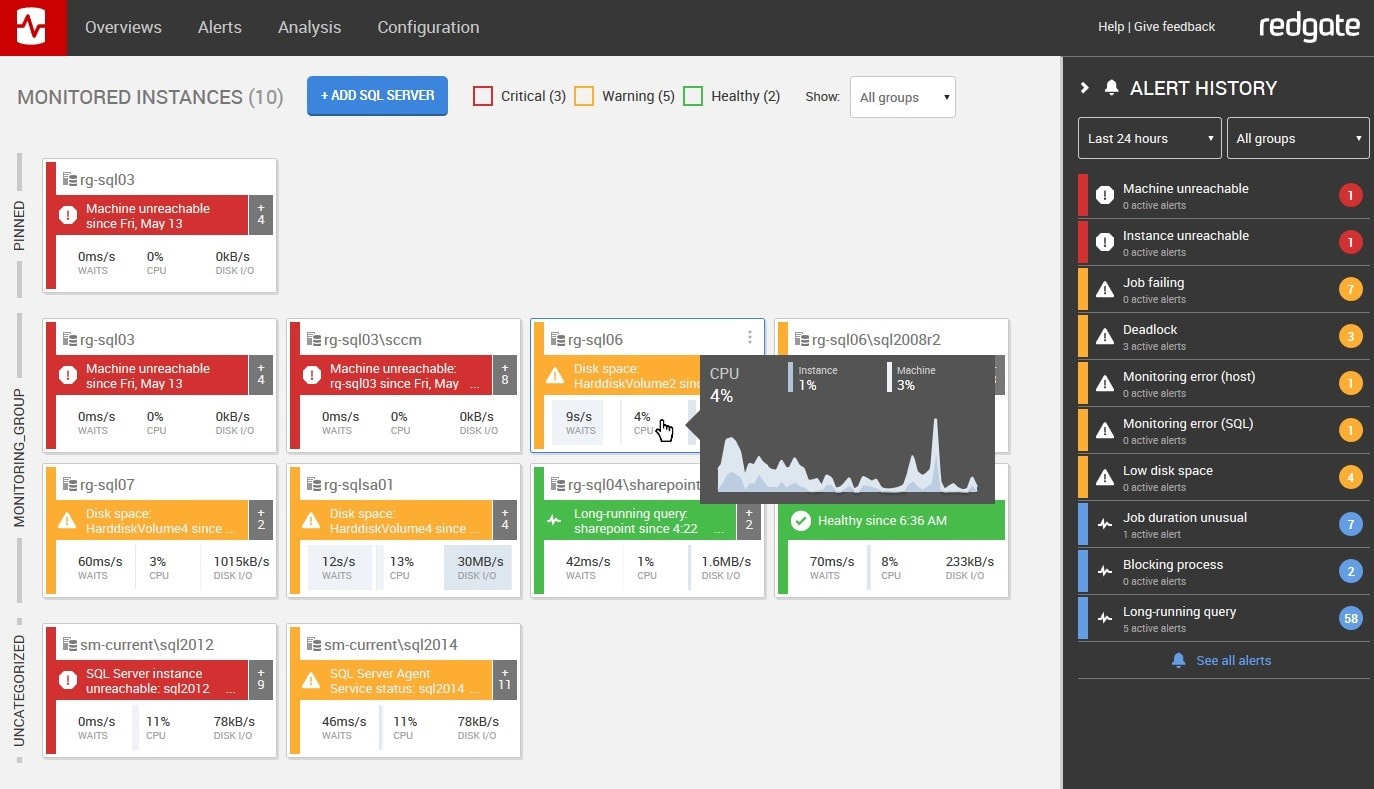 To help you prioritize what's important for your particular environment, you can group the instance cards so that, for example, production servers are in one group, test servers are in another, or servers for overseas operations are displayed together. Basically, you can group them any way you like and then filter your view to display the group you're most interested in. The new layout and flexibility of the dashboard allows you to monitor larger SQL Server estates without losing visibility of what's important. And if you really want to keep an eye on something, you can pin a server to the top of the pile.
Each card shows some key metrics and tells you what the most important alert is. The card changes colour depending on the urgency of the alert; red for urgent, yellow for warning, and green for healthy. So if you have the dashboard up on a big screen in your office, you can quickly see the health of your estate. By clicking on the title of the alert you can go straight to the alert details and see exactly what is wrong and why.
We've also changed the way active alerts and continuous alerts are displayed on the dashboard to make them clearer and more accessible.
An active alert is something happening now where you need to take action to rectify it. When it occurs it will be displayed on the dashboard. An example would be "Machine Unreachable". Once the machine is reachable again, the alert will disappear from the dashboard and the card will turn green. You'll be able to see it in the historical list of alerts and you'll still get e-mail alerts.
A continuous alert, like a backup overdue, will stay on the dashboard until you clear the alert, and this can now be done straight from the dashboard or in the Alerts tab as before.
The right of the new dashboard, as you can see in the screenshot above, also shows the number of alerts of a particular type over time. These too can be filtered by the groups you have previously set up. So if you need to, for example, report how many deadlocks you've experienced over the past 24 hours in your production group, you can quickly do it from this panel.
One final feature, which I think is going to prove hugely popular, is the ability to set an alias for each server. Instead of displaying something confusing like 254914-ntclus.lon.intensive.int > ins2 and 254914-ntclus.lon.intensive.int > ins1, you can alias them with a name that makes sense to you like Production- In1 and Production – In2.
This change doesn't just affect the dashboard but propagates all the way through SQL Monitor (N.B. this only affects the display name in SQL Monitor, not the actual name in SQL Server).
The new dashboard is the latest step in providing a tool that is not only simple for you to use, but is scalable, reliable and – most importantly – useful.
If you're already a licensed customer of SQL Monitor, you can download v5.2 for free.
If you aren't a SQL Monitor customer, visit the SQL Monitor page where you can download a free 14-day trial, or contact a member of the SQL Monitor team who will be able to guide you through the process.
Tools in this post
SQL Monitor
SQL Monitor is a SQL server monitoring tool that transforms the way you look at your database. It cuts your daily check to minutes, with a web-based overview of all your SQL Servers.