SQL Census is the latest prototype to come out of Foundry, Redgate's research and development division. It helps you trace SQL Server user access permissions. You can use it to for free of charge by downloading it.
We're working closely with a select group of people who are helping us test and iterate this solution; our goal is to make sure SQL Census is able to help you trace user access for auditing, troubleshooting, and your daily work around SQL Server permissions.
Server view
Over the last few weeks, we've introduced a new server view, a feature that many of you have asked for. You can now inspect a whole server in SQL Census.
Now when you select a SQL Server, you're given the option to either inspect the full server or a single database. (If you want more than one database, you'll be able to filter by required databases inside full server-view.)


Please note that inspecting a server can take more time than a single database.
Once you inspect user access for a whole server, you will be directed to the capabilities view. There you can filter by principal, capability or database. You can then view the capability details on any principal you want.
You can also export the report of a full server, the same way you were able to at a database level.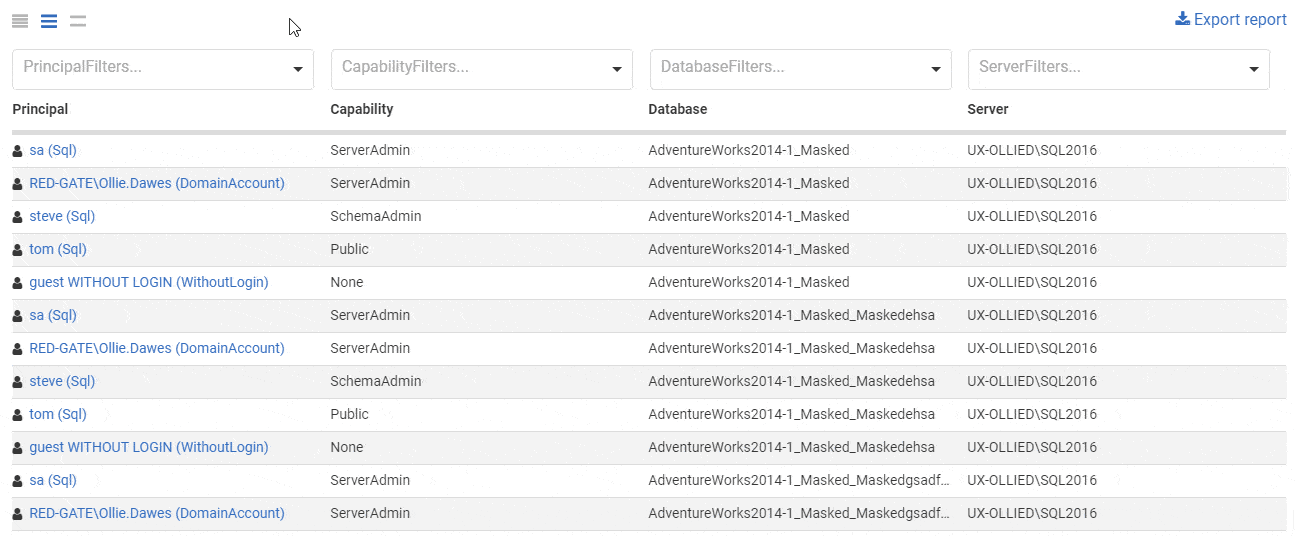 Redgate ID:
We changed the login process for SQL Census to remove any dependency on Azure. This is something that was blocking many users who either didn't have an Azure account or did not have the rights that allow SQL Census to be used for login.
The new login mechanism asks for a Redgate ID only. You will need to either create a Redgate ID or use an existing account. The app will guide you through this process.
Other changes:
Other changes to the app over the last few weeks include:
Support for SQL Server 2008
SQL Authentication
Improvement to the breadcrumbs UI
UI information for visualizing which users are disabled
Updated UI to show nested AD groups instead of flattening the members of nested groups
A fix of the issue where REFERENCES permission was preventing users from using the app
A fix of the issue where duplicated paths for permission inheritance were being shown for AD groups
Internal changes
What's next?
As we move continue developing SQL Census, we plan to do the following:
Clearer messaging around 'capabilities'
Add the ability to generate reports for specific users
Add support for child domains, not just the default domain
Research recommendations for your SQL Server permissions
Research reporting for changes over time to permissions
Are we heading in the right direction? Help us shape what SQL Census by Redgate should look like. We're always available to talk, either by email, or via the red chat link at the bottom right of the app or the Foundry Labs page.
Was this article helpful?