This morning we've shipped another version of .NET Reflector. This release contains support for Visual Studio 2013 and .NET 4.5.1 (still currently in preview), and some of the new analysis features we've had in beta.
Version 8.2 is a free upgrade, so anyone with a version 7 or version 8 license can just download and use it.
.NET Reflector version 8.2 contains: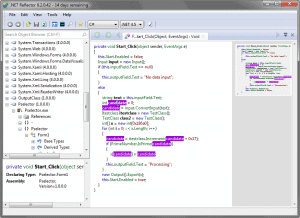 Support for Visual Studio 2013
Support for .NET 4.5.1
On-hover hex/decimal value conversion in Reflector Desktop
Local variable highlighting in Reflector Desktop
Code Map view in Reflector Desktop
Fix for the Enable just my code bug in the Visual Studio extension.
You can get .NET Reflector 8.2 via check for updates in the tool, or download it here.
Visual Studio 2013 and .NET 4.5
A few weeks ago, we started getting some bug reports that looked a bit odd. It turns out quite a lot of you are already using Visual Studio 2013 and .NET 4.5.1
That's not much of a surprise, given how many people told us they were using Reflector to understand and get to grips with the new async features in 4.5, or how many of the people we talk to are adventurous early adopters.
It was pretty clear that we needed to support VS 2013 and .NET 4.5.1 as quickly as possible. That seemed like a good opportunity to get some of the experimental analysis features we've been trialling recently into your hands too.
The new version integrates with Visual Studio 2013, so you can carry on decompiling and debugging 3rd party code without leaving the IDE.
Code Map, variables, and analysis
The Code Map is a new feature in Reflector Desktop. It provides a zoomed-out view of the code you're working with. The code map appears to the right of the assembly browser pane. When you hover over a variable it highlights all uses of that variable throughout the code. You can click on items in the code map to navigate to them.
This helps you see the flow of data through the libraries you're working with, and understand how the code works.
To help make the code more readable and the data easier to follow, we've also added value conversion. Hover over a value, and Reflector will now show it to you in hex or decimal, and you can toggle between the two.

These features can be enabled or disabled on the Options menu, under:
Options > Browser > Enable code map.
Enable just my code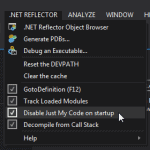 This is a small fix, but it's something a few of you have asked for. When we released version 8 of .NET Reflector, to enable seamlessly stepping in to third party code, Reflector toggled the Visual Studio option enable just my code on startup. This disrupted a few people's workflows, so we've now added the ability to quickly disable this behaviour and make the status more visible in the .NET Reflector menu.
You can get .NET Reflector 8.2 via check for updates in the tool, or download it here.